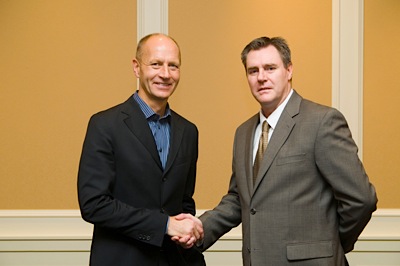 Edward Kennedy, President and CEO of The North West Company welcomes Dr. Anthon Meyer, founder and President of Amdocs Inc.

Winnipeg, Manitoba
As stated in a news release issued by Dalbir Bains, Vice-President, Planning & Corporate Development, The North West Company:
"The North West Company is pleased to announce today the acquisition of Amdocs, a provider of physician services to remote and rural First Nation communities in Manitoba and Ontario. Amdocs' focus on providing quality family medicine and health services to under-serviced northern communities is a strong complement to North West's market focus of being a trusted provider of food and everyday household needs to rural and remote communities.
Amdocs has developed a successful chronic disease management program tailored to the specific needs of First Nation communities, which have a higher incident of chronic illnesses. This unique management program has been recognized by the Federal and Provincial Governments as not only improving patient outcomes but also leading to a more efficient model for serving patients in these communities. Amdocs currently provides physician services to First Nations in Cross Lake, Gods Lake Narrows and Gods River in Manitoba, as well as Pikangikum, Big Trout Lake, Muskrat Dam, and Sioux Lookout in Ontario.
The combination of Amdocs' physician services and North West's pharmacies will not only strengthen our existing pharmacy platform but it will also accelerate its growth by opening up new pharmacy opportunities in communities (such as in northwestern Ontario) where Amdocs has developed a positive reputation for changing disease profiles. North West will also focus on new communities that can be served by Amdocs as physician shortages remain an issue throughout much of the North.
We are also pleased to announce that the founder, owner and President of Amdocs Inc., Dr. Anthon Meyer, will continue to lead the growth and development of the Amdocs business at North West, reporting to myself. Dr. Meyer started the Amdocs program in 2003 and has successfully grown the program from one community in Manitoba to seven communities in Manitoba and Ontario."
Amdocs' success in improving northern healthcare "one community at a time" aligns with NWC's long-standing commitment to enhance lives as a trusted, community store of choice.
—Edward Kennedy, President and CEO, The North West Company